The first stage of PSI's paranormal investigator recruitment is drawing to a close - Friday 3rd August is the last chance to get involved.
PSI co-founder Nicky Sewell said:
"We have had over 50 members come forward so far and today is the last day for new people to come forward. "
One introduction session has been held so far and the last one is taking place on Tuesday 31st July in Swindon and there are still two places available.
Interested members should email us on [email protected] ASAP to try to reserve a place.
Nicky Sewell added:
"We are looking for dedicated, rational and level-headed individuals to join our small, friendly and dedicated investigation team.
"The right sort of mind-set is more important than previous experience, as full training will be provided to applicants who pass the interview stage.
"Coming to the introduction session does not commit you to anything, so if you want to find out more just get in touch.
Orbs and Haunted Swindon Update

PSI 'orb' research website www.TheOrbZone.com has attracted 32,000 web hits since its launch two months ago. Please help PSI by sharing this website with your colleagues.
www.HauntedSwindon.com has reached 50,000 hits in its first five months and requests for investigations have been high This is set to be followed by a book and fundraising.

Sneak Peek at Next PSI Research Journal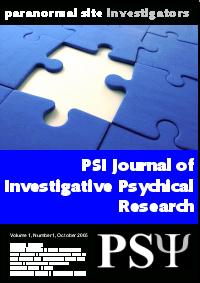 We expect to publish the next edition of the PSI Journal of Investigative Psychical Research in August 2007.
Expected submissions include reporting an experiment into the 'New House Effect' and its affects on haunting cases and investigations.
Two substantive practical guides are also expected: a guide to using Trigger Objects by Chris Huff and a guide to analysing Electronic Voice Phenomena from Maurice Townsend.
We also expect some book reviews from Trystan Swale and some EVP research from Jim Clauson.