PSI is Recruiting: Become an Investigator!
PSI is now launching its annual recruitment for new investigators. Each year PSI runs an intense recruitment period to ensure that they recruit those people showing the best potential to become a PSI investigator. The process consists of a compulsory induction night after which candidates are invited to complete an application form. Successful candidates are invited to an interview with the PSI founders. For those making it through interview, a thorough training course is then delivered.
After this, successful applicants are invited to attend peer-assessed fieldwork and providing no problems are identified, the applicants are then invited to join the team!
Brand New Investigators - Brand New Method!
If you are interested in joining the team, the time to do so has never been better! After years of thorough analysis of our investigation methodology the team have identified ways of enhancing and altering the way things are done to further our research aims. The new investigators will be trained - alongside current team members - in the method which we will be adopting. The new method has been facilitated by successful PSI fundraising which has allowed us to purchase different equipment which will seriously alter how we go about researching and documenting phenomena. Comprehensive training will equip all investigators - old and new alike - with the skills and knowledge to thoroughly embrace our new way of doing things and, together, enhance the field of psychical research. There's never been a brighter time to join the team.
Louise Gasson was one of last year's successful candidates. This is what she had to say about her experience:
"The approach to training was friendly & easily accessible. Everyone at PSI reflects the ethos of the organisation by being professional yet approachable, serious about their commitment, yet good humoured & down to earth. It's not a roller-coaster ride of bumps, moans & full blown manifestations! The reality of this type of work is that the world of the paranormal is not nearly so accommodating but if you have a genuine interest in this field, then being given the opportunity to have investigate some of the locations we have visited makes it all truly worthwhile. My thanks to Nicky, Dave and everyone at PSI."
To apply to join the team, contact us.

PSI Investigator Dr Simon Sherwood is programme chair of this years' Parapsychological Convention:
The SPR and PA are holding their first joint conference here in the UK. This event should be a real treat for researchers. For the first time the Society for Psychical Research and the Parapsychological Association are holding a concurrent conference, here in the UK!
The events will take place on August 13–17, 2008. Events will take place on August 13–17, 2008 at West Downs Centre of The University of Winchester, Winchester, UK. Registration begins on Wednesday evening (Aug 13) and the convention proceedings start promptly on Thursday morning and continue through Sunday lunchtime. PA and SPR conventions feature papers and symposia on a wide range of experimental, theoretical and historical topics related to parapsychology, psychical research and the study of consciousness. The banquet address (Saturday) will be given by Max
Velmans, Emeritus Professor of Psychology at Goldsmiths, University of London. PA President Roger Nelson director of the Global Consciousness Project, will deliver the presidential address. This convention will be the 51st annual convention of the Parapsychological Association, which is affiliated with the American Association for the Advancement of Science. The Society for Psychical research, founded in 1882, is among the world's oldest scholarly societies and was the first established to examine allegedly paranormal phenomena using scientific principles.

PSI Journal Contributions Sought!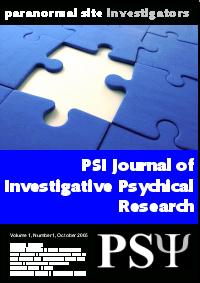 PSI's Journal of Investigative Psychical Research is looking for new contributors in advance of our July deadline.
If you have conducted research or have something which you would like to share with the wider community do get in touch: Contact us!
PSI's first book, Haunted Swindon: A Census of Hauntings, has proved to be a great
success. Early sales information shows that the publication has already sold hundreds of copies and more are flying off of the shelves every day! Retailing at £14.99 in bookstores, you can save yourself a few pounds by ordering online. Amazon.co.uk are offering the title at £11.49 which is matched by Play.com. If you would like to arrange to have your copy signed by the authors please contact us!