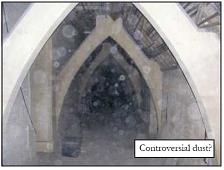 Evidence to be published in February's PSI Journal of Investigative Psychical Research provides the first scientific suggestion that orbs are caused by natural factors.
Project leader Dave Wood said:
"Many people now believe orbs are natural, but claiming scientific evidence is always a bold step. We have been working for nearly 18 months on this project and we feel our evidence supports this, at least for now."
"We are aware that the community is divided on this issue, though not as divided as it was even a couple of years ago.
"For the many rational people who do believe orbs are paranormal indicators, we hope our article will do the subject justice."
The article in the PSI Journal will be followed by a full website dedicated to the research, providing an accessible look at the theory and evidence behind the assertion.

PSI would like to thank the following for their tireless help: Dr Simon Sherwood, Malcolm Gould and Maurice Townsend. We are also indebted to: Dr Jason Braithwaite, Mike White, Dr Hugh Pincott, Ian and Hilary Holden and Kirsten Allnutt. Thanks also to ASSAP for providing the funding.

PSI Founders becomes ASSAP Chairman
PSI Founder, Dave Wood, has been appointed Chairman of the national Association for the Scientific Study of Anomalous Phenomena.
Dave commented, "I am proud to have been appointed ASSAP's Chair. ASSAP has been leading paranormal research, and training a national network of accredited paranormal investigators, for over 25 years. I am pleased to contribute to its work and do my bit to help move forward the field of psychical research."

95 to 2; PSI's News Investigators
PSI's autumn recruitment has resulted in the appointment of Trystan Swale and Steve Wills to the PSI investigation team.
Team development officer, Nicky Sewell, said:
"We're pleased to welcome Steve and Trystan to our investigation team, I am fully confident they will enhance the work we do."
Trystan and Steve were two of 95 applicants to the posts and survived application, interview, rigorous training and two peer-assessed field investigations before joining the team.
PSI Journal receives Quality Assurance boost
PSI's Journal of Investigative Psychical Research has appointed the first members of its Editorial Board: Jim Clauson DSc, Simon Sherwood PhD, Ken Taylor and Maurice Townsend BSc. Board members join editors Dave Wood BSc and Nicky Sewell BSc.
Editor Dave Wood said:
"These appointments are an important step for PSI in its journey towards creating a robust peer-review system which would help our findings to be quality assured and have more credibility within the research community. Any other qualified persons wishing to join the board can email us at [email protected]"