Interactive Ghost Walks

PSI's Dave Wood takes a look the increasing trend towards 'interactive' ghost walks and what they do for education about anomalous phenomena.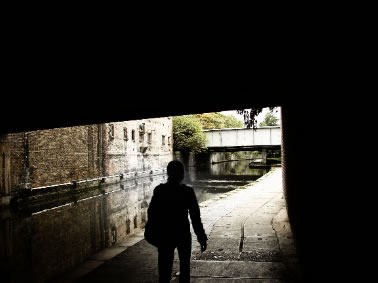 Before this month I had never been on a 'ghost walk' in my life. The traditional ghost walk is a long-standing tradition in many towns and cities, some towns with several competing tours. The basic concept is one of a large group of people paying a small fee for a tour guide to roam the streets recounting dramatic 'ghost stories'.
Few could fail to notice that the ghost walk scene has increasingly moved towards the 'ghost experience' – in this age of 'ghost hunting' as a mass participation sport – in an effort to please the crowds. For my first foray into ghost walks I opted for one traditional walk, and one more experience-based walk.
The traditional walk was surprisingly entertaining. A guide with a background in drama shared a sense of culture and history with humour, humility, sensitivity and even the occasion undercurrent of rationality and scepticism. The crowd saw the experience for what it was: nothing more or less than a fun hour of entertainment.
Encouraged by this experience I booked onto a more experience-focussed walk. I walked away with a feeling of dread – not because of the experience, but because of the shameless flouting of any sense of ethics.
Much of the 'walk' was much as expected: a careful creation of suspense and apprehension. Priming of the public in low-light settings, encouraging them to experience, planting in their minds what to experience and discouraging any attempts to rationalise.
The first shock was the abuse of a scientific study to lend credibility to the experience tour. An academic had conducted a study of the location some time previously, concluding that such ghost experiences were largely psychological. The study was used to demonstrate that this was 'one of the most haunted haunted places in the country' – after all, even the 'experts' had said so!
One aspect of the walk that sounded appealing was the 'science bit' promoted in literature. Even the local tourist information centre had warned that this walk involved serious science by serious researchers; my expectations were high. Disappointment reigned when the 'science bit' turned out to be a lecture about the 'scientific' stone tape theory, bringing out a few standard EMF meters and trotting out the usual unscientific theories.
Perhaps the crowning glory of their piece was the presentation of orb photos and electronic voice phenomena as paranormal proof. Customers certainly seemed pleased to have their belief in orbs – inspired by reality television and never refuted – to be validated; particularly when an orb photographed seemed to coincide with the whining of an EMF meter that had just been dropped on the ground.
There is nothing wrong with entertainment or preservation of history, but realising how many thousands of people pass through these 'interactive walks' makes the jobs of educators that much more of a challenge.