Education with Schools and Colleges

One of PSI's objects is to advance public education of the study of anomalous experience by providing lectures and written materials to allow the subject to be studied.
A2 Level Philosophy and Ethics: Written Materials: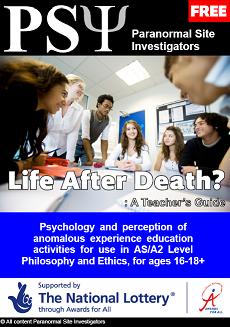 PSI has produced a Teachers Guide to planning lessons on critical awareness of 'afterlife' claims, directly relating to the A2 Level curriculum.
Any teachers can obtain a free copy by emailing us.
PSI Course at New College, Swindon
From autumn 2008 PSI is running courses each term at New College, Swindon, one of the region's top Further Education providers.
The course is title "Why Ordinary People Experience Ghosts: The Psychology of Anomalous Experience". Booking information can be found from the New College website or by calling free on 0808 1721721.

Education Events for Schools and Colleges
PSI has run educational events for schools and colleges, to allow students to critically assess afterlife claims in an allegedly haunted building.
The National Lottery provided funding for PSI to deliver six free educational events for A-Level classes, and others, over 2009.
If you are interested in finding out more contact the team.