PSI's Publications

Members of PSI are entitled to receive all PSI publications for free. To sign up for free, please use the simple form to the right.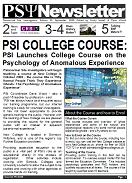 PSI Newsletter
The PSI newsletter is a fully art worked publication, carrying articles relating to PSI news
The newsletter also carries brief cutting edge research articles.
The newsletter is available to members only and is produced five to six times per year.
>> Visit bitesize newsletter articles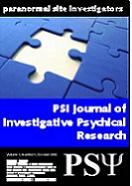 PSI Journal of Investigative Psychical Research
The PSI Journal is a substantive, academic-style publication carrying research and experimental articles, book reviews and external contributions.
The Journal is available to members only and is published twice per calendar year.

>> Find out more about the Journal
>> Visit full list of Journal Articles

Other publications have included:
>> Various other books that PSI have contributed to or been cited in
>> External research publications we have contributed to
>> Life After Death? A Teachers Guide for AS/A2 Level Philosophy and Ethics, to allow the subject to be studied in schools and college.
>> The free Haunted Swindon booklets, funded by the National Lottery
>> PSI's Annual Report